Many
small businesses
are trying to figure out how to make more money in a down economy.
Marketing and PR
is an option but there needs to be a greater mix. Sure you need a website to promote your business but are you getting any leads from it?
Internet marketing
is very popular. There are probably more websites with advertising on them then not. This means you can spread your message across many websites by advertising using an ad network such as
Yahoo Search Marketing
.
Online marketing
is here to stay and if you are not promoting your own business online you are missing a major opportunity.
Websites dominate all media in the 21st century as the most effective way to reach new leads and attract new customers and sales. Coordinating multiple facets of online advertising to maximize Return on Advertising (ROA) is called Multilateral
Online Marketing
(MOM), a new industry term coined by Fathom SEO that more accurately expresses what it takes to succeed online – coordinating multiple programs that can efficiently reach the right target audience when diverse disciplines work well together. Fathom SEO has published a
free guide
that explains 3 core steps to a successful online marketing initiative: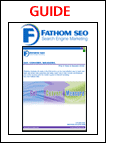 Get traffic
Convert visitors
Measure revenue drivers
Check out and register for a
FREE guide
and maximize your company's Return on Advertising Online!
Recommending Reading:
Download Free White Paper
-
Creating Consumer Confidence: The Secret Ingredient of Internet Success
Learn 10 techniques to establish trust and credibility on your web site.
The Playbook for Small Businesses
How to Say It: Marketing with New Media: A Guide to Promoting Your Small Business Using Websites, E-zines, Blogs, and Podcasts (How to Say It...)
Yahoo! Answers Traffic Guide - Learn How To Instantly Use The Popularity Of The Yahoo! Answers Community To Immediately Flood Your Website With As Much Traffic!
Traffic For Newbies - Start to Get Hoards and Hoards of Highly Targeted Traffic Flowing Into Your Website with This Simple Guide to Traffic from the Ground Up!